Sugar's Baby
the arrival of a new life on the farm, and two poems
Well, this post has been eleven months in the making. Longer than that, actually—it was the baby that took nearly eleven months to arrive!
I am speaking of the arrival of Filigrana del Sol, all long legs, dainty baby hooves, large eyes, and a wonderful swish of a tail. She is learning everything for the very first time; and she is quite full of ideas and eager to put it all into winning hearts, running the universe, and getting another drink of milk from mama.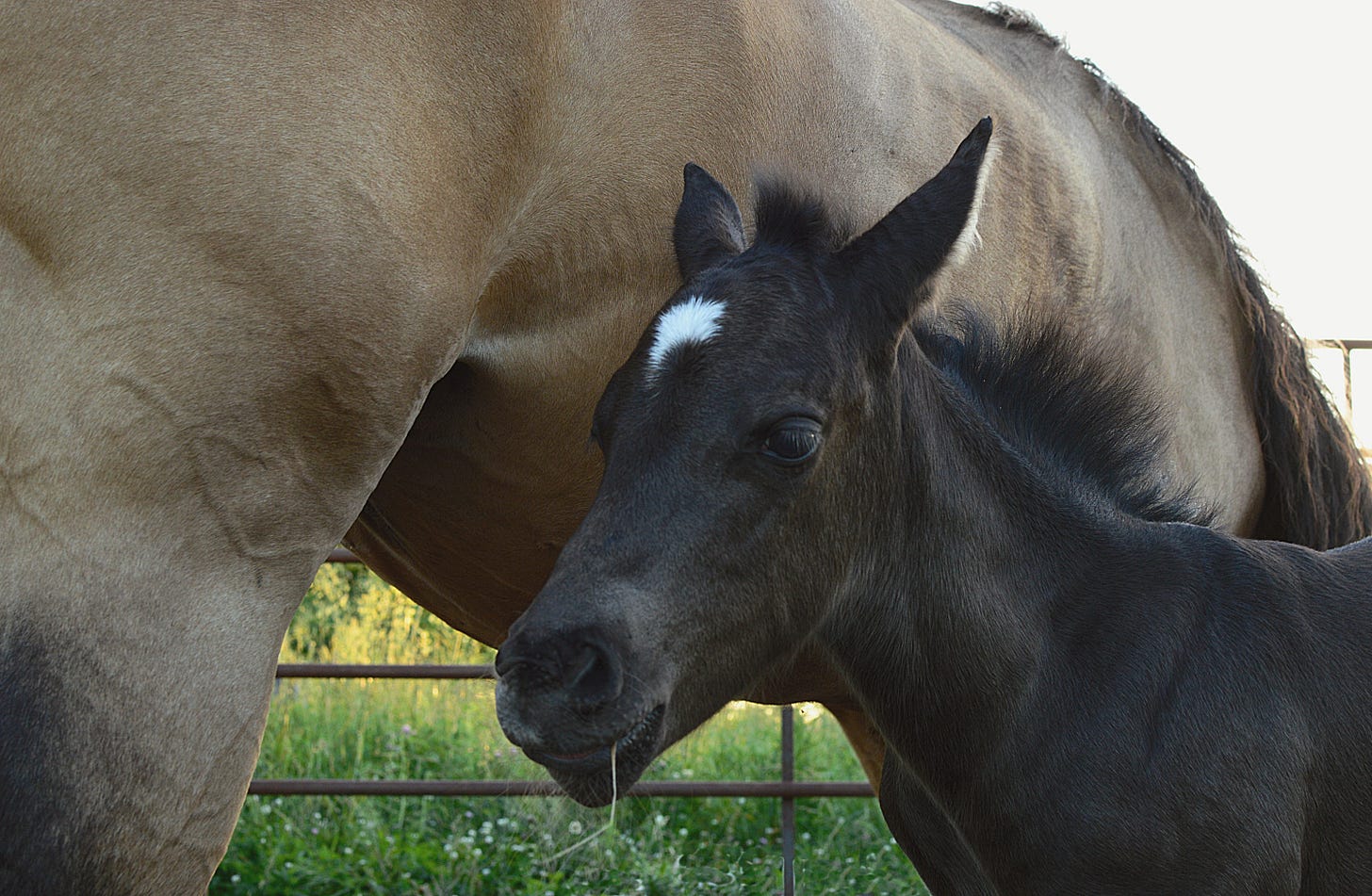 Filigrana has the all-too-rare distinction of being a purebred Galiceno horse. In full she is Filigrana del Sol (Suwannee Two Step x Suwannee Bonita). Quite a mouthful for something so small! Yet it is an important fact.
At some point, no doubt, I will write my thoughts about working to save a critically endangered horse breed, the Galiceno. Conservation of heritage livestock breeds means a great deal to me. Working with the irreplaceable Galiceno, whose registry numbers have now dropped below one hundred, is where I began to put my own efforts several years ago.
Filigrana, AKA Frou Frou, is our very first foal. I say "our" because I can't help but view this as a joint effort with the horses. They have been splendid to work with, making this adventure so much more delightful.
And indeed, this is far more than a conservation effort for me. There are the personal relationships with the horses themselves. They are full of the kind of loyalty, support, shared moments, and honest respect and affection that come with the truest of friendships.
Frou Frou's mother is doing quite well. Her name is Bonita, but her nickname is Sugar, hence the title of this post. This was her first baby, but she has certainly handled everything with the grace, natural good sense, and good nature which are so typical of her. Well before baby arrived—late last winter, in fact—I wrote this poem for her.
To Bonita
I watch you coming through the dark,
A silhouette against the night,
Enveloped in the homely arc
Of farm-light, yellow-glowing, bright
In spinning mist that still obscures
The paths across the field. And you,
Your pale, night-shadowed coat appears
From out the mist, from twilight hue
To silver buckskin, while your feet
Sound soft across the snowmelt earth;
I wait your coming, gentle, sweet;
I feel within my pocket's girth
For peppermint, a welcome taste
To kiss and crunch; my hand uplift—
Your nose outstretched, though not in haste—
You reach and munch the proffered gift.
We walk together, you and I,
We share the nighttime's placid start,
And soul to soul we make reply,
You gentle, gracious, honest heart.
---
More recently I also wrote this haiku about a sight that always lifts my spirits: the shadows of horses at night.
Your shadows, heart-sweet
and night-dark on moon-pale wall,
my midnight horses